Lots of Lo's to show you today. And all, I'm afraid from our trip (again).
Firstly this weeks
Design dollies sketch
, this week done by the very talented
Karen
(from sunny Qld, a holiday there in some warmth sounds rather good at the moment..).
here is her sketch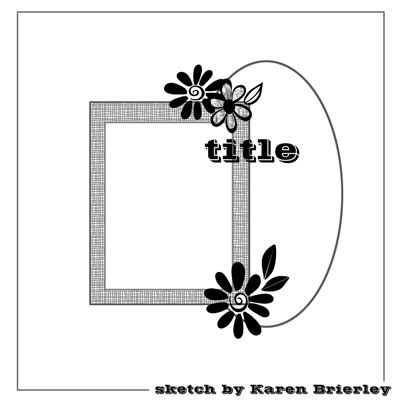 Very cool, and here is my effort
It is a photo Henry took of himself and a stone elephant (not a single chance he would get that close to a real elephants head..)- it's a little bit steam punk. Have just gotten a new set of stamps
(I can feel the longing from here Irini...)
Next is the latest
Sketchy Thursday sketch.
Another double pager which is good for the holiday album.
Lots of photos from one place, in this case the Museum of Ethnology in Hanoi. not the most exciting name for an institution and to be honest the inside , while interesting for the grown ups, held very little for the kids. But outside, just excellent. Lots of full sized ethnic house to climb up into, a water puppet show and a fairly graphic fertility house surrounded by carved wooden statues (an eye opener for the kids for sure..).
And a couple of wonderful little balance beams that Henry couldn't get enough of. At one stage he had a crowd of Vietnamese admirers standing around him, taking lots of photos of him (I found this odd but we took photos of some of the Vietnamese kids so it all makes sense I guess)
And finally another Lo from the weekend crop at Cocoa Daisy (the challenges are still running , go check them out, so very good). This was a challenge to use black as your background and include a night photo. I love black as a background and I had been wanting to get a bit of this story scrapped as well.
This was the photo taken at about 8 o'clock at night just after we had been dropped at a spooky, enormous but empty hotel in a very quiet town the middle of the Vietnamese countryside. We didn't really know where we were, except near a major cave attraction (Phong Nha caves, terrific) and no one (including the hotel staff) spoke English. I was slightly freaked out but Geoff held his calm.
We finally escaped just before lunch the next day and were only ripped off for the taxi fare to the next major town. The taxi trip after that (400km in 10 hours) is a whole new story...
I think I shall go garden now. We have been having sub zero temperatures every morning for the past week but yesterday and today have been magnificent during the day.
have a great day xx