That's probably not quite right but currently I am missing the days when I had a little girl and not a teenager. Meaghan isn't a bad teenager but she defiantly has the attitude , you know it. We probably all had it at some stage.
"I am so much more knowledgeable than you so let me do things my way."
(with metaphorical eye rolling happening at the same time)
I don't mind it so much, she is old enough to spend days hanging out with her friends and she does tend to be self reliant which is all a sign of growing up to be a confident adult. It's the treating me as a cash machine and then putting off any jobs I give her until the last minute (ie until she is back at school and I have to do them). Minor complaints I know, compared to other teenagers but I do miss my little girl who happily chattered away and was pleased to go shopping with me. sigh.
So I dug through some old photo albums and came up with a couple of photos of my girl when she was a bit smaller (and way more compliant..) to scrap. One today and another on thursday for the next Southern Girls challenge.
Anyway, this rambling leads me to my Lo for this weeks
Design Dollies
.
Karen
has chosen these colours, with the choice of using just three of them if you want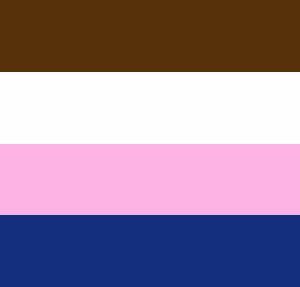 and despite her (fully justifiable) certainty that I would avoid the pink, I really like pink and brown together, esp with white thrown in.
And I used an old photo of Meaghan when she was 8 and we were trying to get some curl in her very straight hair. We washed her hair then twirled her hair in rags. It worked for most of one day then it went back to dead straight again. I think she likes having straight shiny hair now.
And now the kids are back at school (hooray for peace and quiet but boo to having to get lunches, uniforms ready etc) I can resume scrapping for my favourite challenge sites. First up this week is
Sketchy Thursdays
. Here is the sketch
and her is a Lo featuring Geoff and I (rare!) although we don't actually appear in the same photo (like superman and Clark Kent - spooky) , the photos were taken on the same day. And it was in service to one of our children (Henry) but not too onerous a task.
And to continue my movie discussion from last week I took Henry to see Hop. I give it extra stars purely because it had David Hasslehoff in it. He is looking a wee bit, hmmm, what's the best way to put this - stretched. And he still can't act but hey - he's the Hoff, and proud of it - gotta love that!!
And I finally saw Juno and completely loved it. One of the best movies I have seen this year, I even endured ads rather than taping it because I just had to see how it finished. I loved her step Mother (maybe left over adoration from the West Wing) and Juno's best friend. And just all the characters, not sickly sweet, very quirky. My type of movie.
Off to Henry's first soccer practice now, must find his boots...
have a great day xx